UNIT 13. MY FAVOURITE CHARACTER
Lesson 13.1 Find It in the Book!
1. Find the correct pair.
Every day I push. Yesterday I pushed – P-U-S-H-E-D
Tell the weather

Telled

Told

Push

Pushed

Pusht

Count

Countet

Counted

Feed

Feeded

Fed
Goed

Go camping

Went

Buy

Buyed

Bought

Fly

Flew

Flied

Get coloured

Getted

Got
2.
What did they do?
Three bears went camping.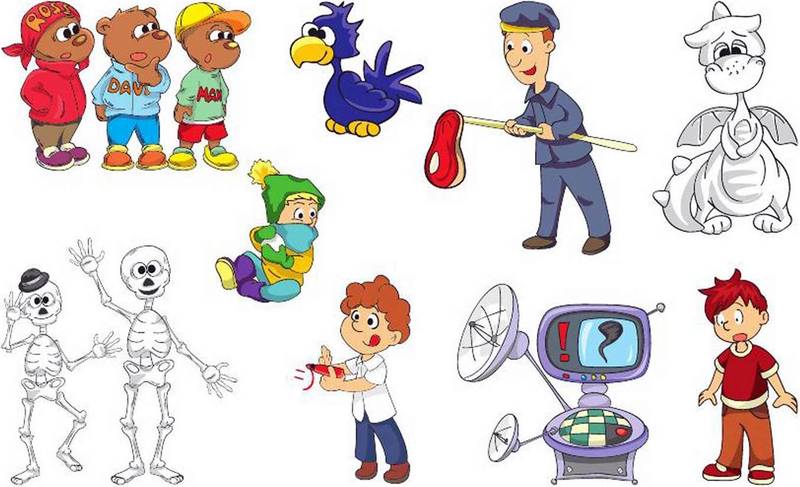 3. Choose one character from Task 2. Let your partner ask about it to guess it.
– I have got a secret character.
– Did it fly?
– Yes, it did.
– Is it Benedict?
– Yes, it is.
4. Do you know these words?
| | | |
| --- | --- | --- |
| Big | Funny | Short |
| Polite | Sad | Tall |
| Friendly | Small | Bright |
Speak about the characters in Task 2.
George is taller than Benedict.
5. Choose a character and say as many sentences about him/her as you can in one minute.
Willie is shorter than…
6. Listen to the texts and guess who they are about.
7. Correct 7 mistakes.
I is looking at some dragons in the forest. All of them is very bright. The yellow dragon dancing. The green dragon is clap his hands. The red dragon
are looking at the flower. The white dragon is smile. There are no chameleon in the picture.
Which sentences are not true?
8. Look through the book and secretly choose one picture. Tell your partner about it. Let your partner find it in the book.
– In the picture there are two skeletons. They are talking to a shop assistant. He is listening to them.
– I think this picture is on page 52.
– Yes, you are right.
9. Choose any picture in the book and write 5 true sentences and 1 false about it.





(
1
votes, average:
5.00
out of 5)

Loading...
Взаємодія тіл приклади
.
Ви зараз читаєте:
Find It in the Book!