Learn to talk about English spring holidays
Unit 6 Holidays and Traditions
Lessons 81-83 Learn to talk about English spring holidays
Word Box

Communication Box

Easter

Easter bunny to roll eggs ribbon

Traditionally, … . Not only that.
1. Look and say what English children can do on holidays.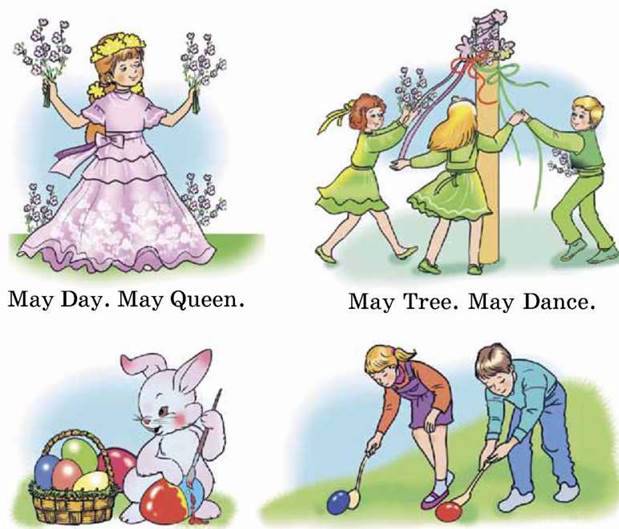 Easter. Easter bunny. Easter egg. To roll eggs.
2. Listen and repeat.
MAY DAY
Jolly girls, jolly boys,
We are coming with a noise.
Our stockings are silk As white as the milk.
We'll dance and play On a sunny May Day.
/ei/ – play, may, day
/ɔі/ – boys, noise
3. Look, match and say what symbols of English spring holiday these children like.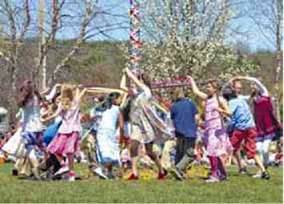 class=""/>

Easter bunny egg rolling
May Queen Easter eggs
May coloured ribbons
Example: The girl likes Easter bunny.
4. Listen and role-play.
CELEBRATING EASTER
Oksana: I say, Paul, are there many spring holidays in England?
Paul: Not many. Traditionally, we celebrate Easter
And May Day.
Oksana: And what is your favourite holiday, I wonder?
Paul: I adore Easter.
Oksana: Do you like Easter eggs? In Ukraine we have a nice tradifiat to point eggs. We call them pysankas.
Paul: Not only that. I like Easter traditions much
Better. I enjoy egg rolling.
Oksana: Egg rolling? What is it?
Paul: It's a very interesting competition. Boys roll
Eggs down the hill. The winner is a boy whose egg doesn't break.
Oksana: Have you ever rolled eggs?
Paul: Of course I have. Last spring I was the winner.
I got a prize – chocolate Easter Bunny.
Oksana: Great! Can you teach us how to do it?
Paul: With pleasure.
Remember!
–
Have you ever rolled eggs?
– Of course I have.
5. Talk with a friend about English Easter and its traditions.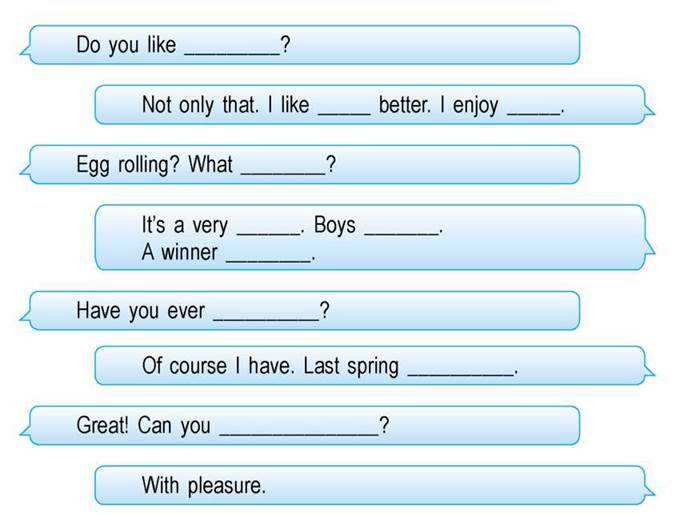 On your own: Draw symbols of English Easter and write 3-5 sentences about them.
6. Look and guess what photo Polly Brown shows to her friends.


Example: I think Polly Brown shows the photo of… .
7. Read and say what the dream of every girl is.
MAY DAY TRADITIONS
Part One
Hello, my dear Ukrainian friend,
My name is Polly Brown and I want to tell you about my favourite spring holiday. It's May Day. We celebrate it on the first of May in England. It's a very merry holiday. Traditionally, there is a big parade of green branches and flowers. They are all symbols of spring.
Part Two
In many villages children and their elder brothers and sisters go to the wood to gather "mayflowers". They decorate the May Tree with these flowers and ribbons of different colours.
During the holiday we take one of the ribbons and dance round the May Tree. It is a very popular spring tradition. Then we choose a May Queen. As a rule, it is a very pretty girl in a beautiful dress. She gives prizes to the best dancers. The dream of every girl is to become a May Queen. Once I was a May Queen too. Here is my photo. Do you like it?
8. Read, choose and complete.
1. Polly celebrates May holiday… .
A. on the first day of May;
B. in the middle of May;
C. on the last day of May.
2. There is a traditional parade of… .
A. green trees and flowers; b. the pretty girls;
C. nice costumes.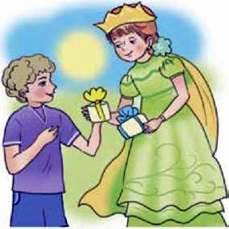 3. Children and their elder brothers or sisters go to the wood to gather… .
A. berries; b. mayflowers; c. nuts.
4. Children dance round… .
A. the streets; b. the fire; c. a May Tree.
5. A May Queen give the winners… .
A. prizes; b. presents; c. money.
9. Talk with friends about English spring holidays and traditions. Use:
Many children in England like… .
… is a popular tradition on Easter.
Boys adore… .
With many other children… is a favourite holiday.
On this day… .
As a rule, … .
Traditionally, … .
As you see, there are… .
10. Write about one of the English spring holidays for your classroom display. Use the plan.
What holiday is it?
When do they celebrate it?
What are the holiday symbols?
What are the holiday traditions?
What do children like to do on this day?
Do it yourself! Draw a greeting card for one of the English spring holidays.
Письмовий твір-опис природи в художньому стилі
.
Ви зараз читаєте:
Learn to talk about English spring holidays